Business pamphlets, company brochures and informational tri-folds are a great way to convey a lot of information quickly and easily. You can handout a sales brochure to a client or leave information trifolds where anyone can easy pick it up and take it with them. These promotional brochure designs can be used for just about anything, here are some ideas:
Direct mailer brochures
Product catalog trifolds
Handout pamphlets
Company tri-folds
Pricing sheets and sales brochures
Business tri-folds
Program brochures
Wedding invitations
Custom pamphlet designs
Design and printing for both brochures and tri-folds.
At The Rusty Pixel we can create you a 100% custom brochure designs or tri-fold designs that looks spectacular. Our goal is to construct something unique that will draw people in and compel them to take a closer look. We will do all of this without making your design too busy and difficult for the viewer to find the information they are looking for.
Once you are 100% satisfied with your new brochure or trifold design, we will print them up for you using high-quality processes. Customize the feel of your new tri-fold or brochure by choosing from a wide variety of different paper types (such as glossy or matte), thick card-stocks, sizes, folding options, and quantities.
Tri-Fold Examples
Check out some examples of our previous brochure and tri-fold work.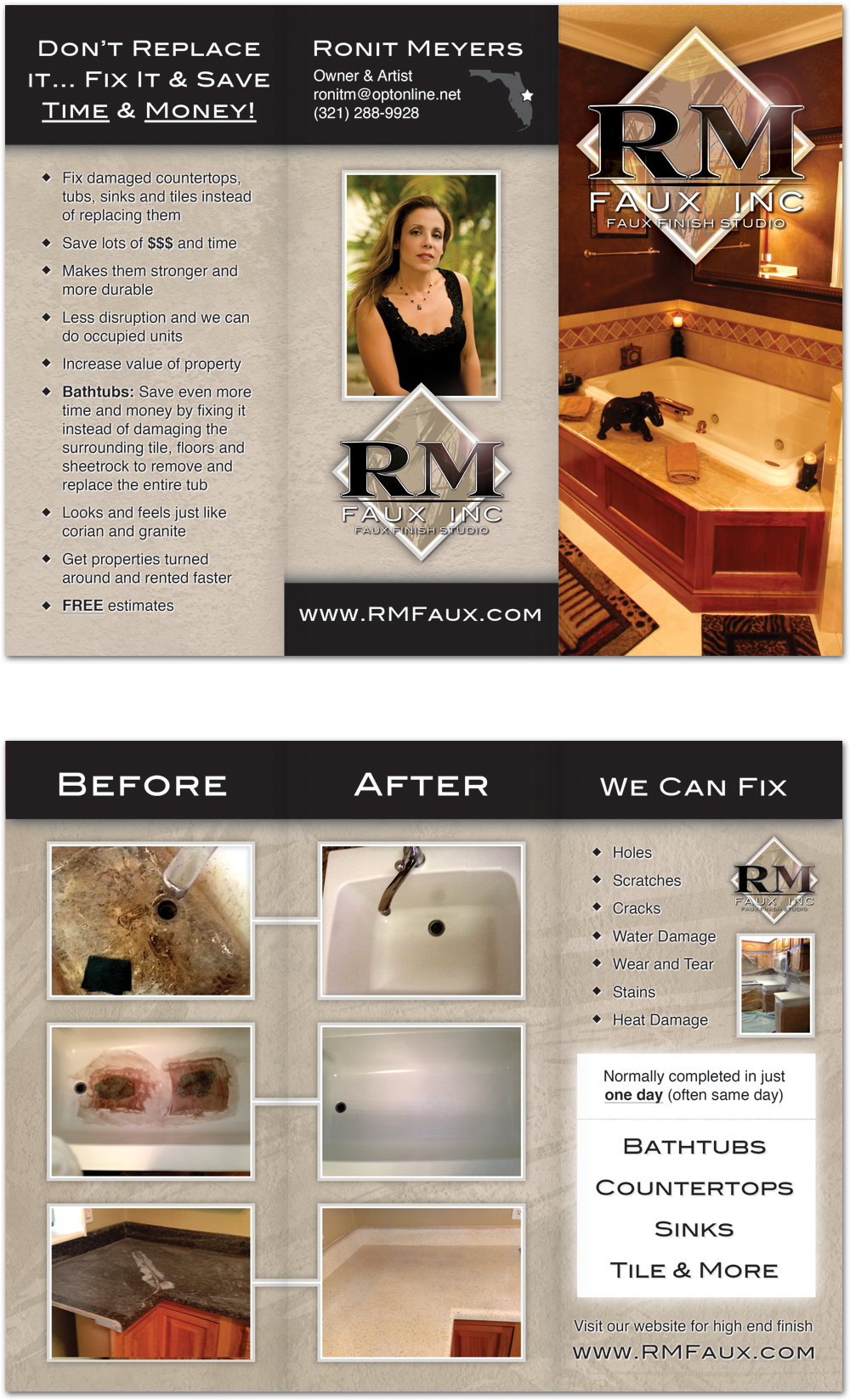 RM Faux, Inc.
Outside and inside tri-fold design created for RM Faux, Inc. A client since 2014 and located in Melbourne, Florida they specialize in fixing bathtubs, countertops and more.
---
Beachside ALF
Outside and inside tri-fold brochure design created for Beachside ALF. They specialize in assisted living. Located in Melbourne Beach, Florida they have been a client since 2009.
---
Brochure & Tri-Fold Specs
Here are the standard design and print specifications for trifold printing and brochure printing. They can be changed and customized to fit your exact needs. Please contact us for pricing and more information about our flyers, brochures / tri-fold design and printing services.
Design Specs
100% custom design
Unlimited design revisions
Front only or front and back design
Full color design
Print Specs
Size: 8.5"x11"
Paper Finish: Glossy
Paper Thickness: 100lbs
Print Quality: 300dpi and CMYK
Options
Different paper finishes and thicknesses
Die-cutting (example: rounded corners)
Folding options (half-fold, tri-fold, etc)
---
Brochure Printing Melbourne FL
Brochure Printing Melbourne FL Tri-Fold Design Company: Custom brochure design and brochure printing Melbourne FL company. Professional tri-fold design FL and business tri-fold print services Cocoa Beach Florida.